Teen's Fourth Annual 'Adding Tomorrows' Tour Dates Released
Berwick, Pa (6/24/18)- Thirteen year old Rose Ostrowski of Berwick, PA is happy to announce the dates for her 4th annual "Adding Tomorrows" Tour, which benefits the Cystic Fibrosis Foundation. The annual tour will begin in September at the Hard Rock Café in Nashville, TN and conclude at Scranton's Marketplace at Steamtown in February.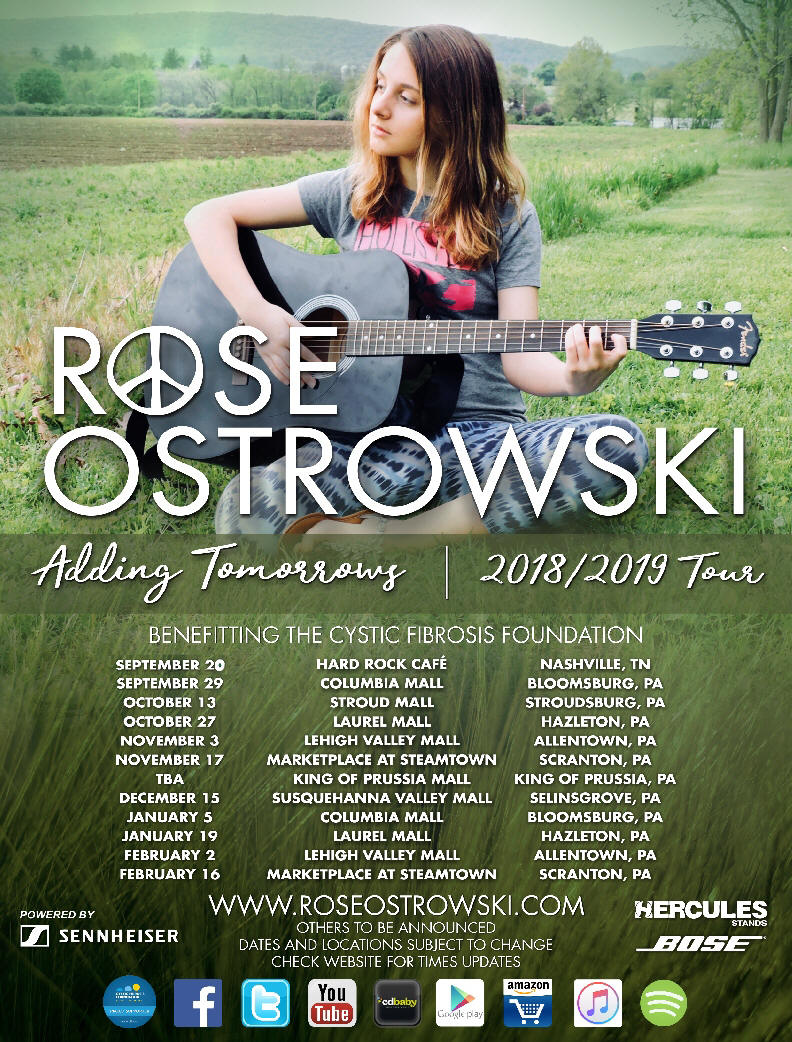 The annual event raises donations and awareness for cystic fibrosis, a disease that Rose's cousin, Camilla Stiller suffered from and passed away as a result in 2012. Since, Ostrowski has been recording music and performing to do her part with finding a cure while enjoying something that she loves to do- sing and play music.
Many Pennsylvania shopping malls have shown interest in hosting her events at their facilities over the last three years. This year is no different, as three new shopping venues showed interest and have since been added to her schedule.
"I'm very happy to be invited back to all of the venues from the last three tours, and I'm really excited to have the opportunity to kick it off at the Hard Rock in Nashville", noted Ostrowski.
Something different than last year and instead of Ostrowski singing to pre-recorded tracks for her tour kick off, the Hard Rock Café has offer up their house band to back her.
The teen is also excited to perform at the largest mall in the USA- The King of Prussia Mall near Philadelphia, for the first time.
"Thanks to our compact Bose sound system, the set up and tear down goes very quickly. It's excellent for "pop up shows", like the one that I'll be doing at King of Prussia. Add that with Sennheiser microphones and it's destined to have excellent sound there!"
Aside from her selection of new songs, one thing that may be a little bit different from years past is that Rose plans to play a few songs with her guitar. She's played piano singe age 7, but recently began taking guitar lessons from a well-known Berwick musician, Kevin Badolato.
Ostrowski is grateful to all of the folks that have given her the opportunity to perform and for the support that they have given, which include great products that she endorses, like Sennheiser Electronics and Hercules Stands.
Ostrowski's entire schedule, including other events not be affiliated with her tour, such as the grand opening of

The Salon By InStyle at the Wyoming Valley Mall and Berwick's Summer Concert Series at the Jackson Mansion

can be seen by visiting
www.RoseOstrowski.com
.
###
Direct URL: http://tylerjett.com/062418.htm
Rose Ostrowski media contact:
Gene Ostrowski (570) 231-1272
genotylerjett@gmail.com
or
geno@tylerjett.com